Thank you for coming! Thanks for being here! We have got one hell of a show tonight! Welcome to the first ever and probably the last Golden Cagey Awards! The Cagey's as the kids call it.

Man, 2022 was one hell of a year, am I right?! That one thing happened and then that other thing happened. What was that about? So many things.

Will Smith is here, not sure why. No slapping anyone, Will. Just ask yourself, What Would Xenu Do. Speaking of weird aliens, James Cameron is also here, seems he brought a walrus as his date. Oh wait, that's just Kelly McGillis. You have not aged well. I can see why they didn't bring you back for Top Gun: Maverick.

I jest. Sit down, Will.

This evening we will be running down the best of 2022. That includes the top ten movies of course, but this year the list will feature not just movies but the best in videogames and TV shows. Isn't that exciting?!

If you're wondering, hey, where is Nic Cage? I'm only here for the Rage Cage! Well calm your tits, sir. Not only is he here, he's actually standing right behind you. Joking joking. He actually couldn't make it tonight. But he sends his regards.

I want to put all fears at ease, I've consulted with Cage himself before the show and he agrees with me that these are the definitive picks for 2022, no other list is as accurate as this one. One might say this could be the list to end all lists.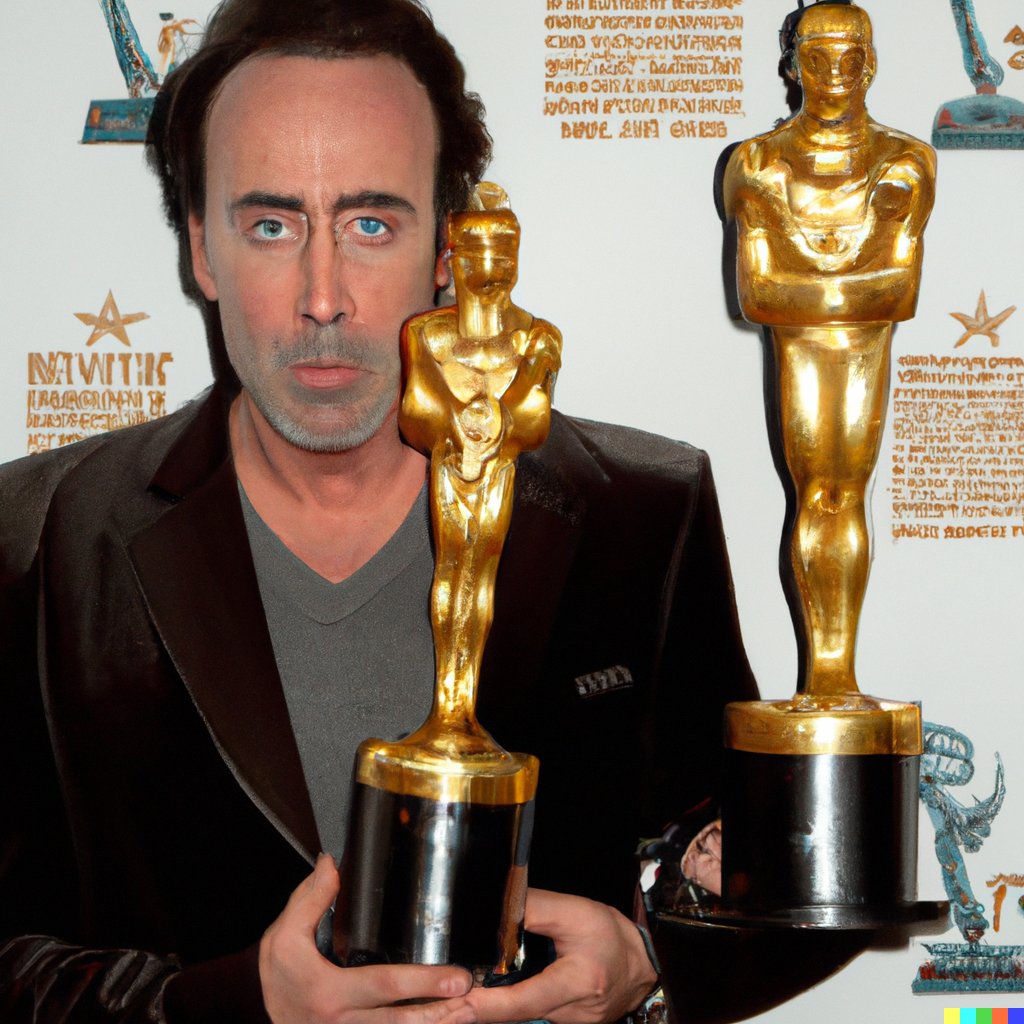 I bet you're all excited to see who is going to get that coveted Golden Cagey Award Trophy first, am I right? Well, let's just jump right into it with our first category… videogames!
Here is THE TOP 5 BEST GAMES OF 2022:
The Nominees are…
A Plague Tale: Requiem: After escaping their devastated homeland, Amicia and Hugo travel far south. There, they attempt to start a new life and control Hugo's curse. But, when Hugo's powers reawaken, death and destruction return in a flood of devouring rats.
Dying Light 2: Stay Human: Ever since the Harran virus broke out 20 years ago, mankind had to seek refuge in the last few settlements still standing. As a wandering Pilgrim bound by no ethics or rules, you're left looking for a long-lost sister.
Elden Ring: In the Lands Between, a fictional landmass ruled over by several demigods, was previously ruled over by the immortal Queen Marika, who acted as keeper of the Elden Ring, a powerful force that manifested as the physical concept of order. When Marika eventually shattered the Elden Ring and disappeared, her demigod children began warring over pieces of the Ring in an event called the Shattering. Each demigod possesses a shard of the Ring called a Great Rune, which corrupts them with power.
God of War: Ragnarok: Kratos and his son Atreus face the oncoming Norse apocalypse, Ragnarok.
High on Life: Humanity is being threatened by an alien cartel who wants to use them as drugs. It's up to you to rescue and partner with charismatic, talking guns, take down Garmantuous and his gang, and save the world.
And the Cagey goes to…
Elden Ring – I'm a giant Fromsoftware fan, this was hands down the most anticipated game of all 2022. It was Fromsoft stepping into the world of open world games. A genre which has grown pretty stale over the years. For the most part they have become endless filler, fetch quests, filled with random junk like item collection, to pad out the game. Elden Ring breaks the mold, like most games it doesn't hold your hand. It doesn't tell you where to go or what to do, you just have to set out and discover it on your own. And let me tell you, if you've ever played an Ubisoft game, it's refreshing to finally see a game that doesn't point in the direction you need to go constantly, bogged down with endless character dialogue, a character that never shuts up, and a clean HUB without all the junk filling up the screen. The joy and excitement you get from just wandering this vast world, not knowing what you'll find is unlike any open world experience I've ever had. I have yet to actually beat Elden Ring, as I took my time finding all the hidden stuff, all the dungeons and all the many and I mean many bosses this game has spread out in its insane world. It is a masterpiece through and through.
2. God of War: Ragnarok – Narrative gameplay story telling at its best. They took a pretty silly franchise and manged to give it depth and emotion. Featuring some of the best gameplay, best acting and best writing you'll ever see. It is the best viking game you'll ever play as well. One thing that kind of struck me when playing the previous God of War games before these two sequels was how much of an unlikable asshole Kratos is. He's still kind of an asshole in this, but they managed to try and give him some humanity, so you care about his journey. And it's a pretty long journey. Even after you beat the game, there's still a ton of game left to play and explore.
3. High on Life – One if not the funniest games ever made. If you're a fan of Rick and Morty or just Justin Roiland's type of humor, you'll get a kick out of this game. The creature and art design is so bizarre using AI art, hell I'd even say the music was made by an AI from just how strange it is. The music is really unlike anything you've ever heard before. It actually sounds like an alien made it. Really, the whole game feels like that at times, with what seems like improvised lines, fully featured movies you can sit and watch. One movie Demon Wind getting the MST3K treatment with the RLM crew talking through it. For gameplay, they took the Doom formula of arena style combat, with platform style puzzle solving outside of combat. It's fun, it's hilarious and one hell of a game.
4. A Plague Tale: Requiem – This game is bleak as hell, but the writing is topnotch. So is the voice acting, even if it's filled with a bunch of whispers. And for a game that isn't from a triple A studio, what they manage to pull off with their graphics puts some big studios to shame. I also only ran into one bug while playing it, as I got a spaghetti arm while reaching for a character's hand. I did find the ending a bit lackluster, however the promise of a sequel in a present-day setting is super intriguing.
5. Dying Light 2: Stay Human – This isn't a great game. I actually debated putting it on my worst list. But it is fun to play. The parkour combat is just outright fun. Killing zombies with makeshift items also never gets old. However this is an open world game that is showing its age, using the same old tactics of padding it out with fetch quests. The game seemed to have endless boring side quests. In the last half of the game I just stopped doing the side missions altogether as they were all the same, and didn't impact the story whatsoever. The main story line was interesting enough, as you're searching for your lost sister in this zombie apocalypse. The ending was extremely disappointing and left much to be desired.
Wasn't that just fantastic?! I just heard from Nic Cage and he is very pleased with how things are going tonight. I see Will is getting his slapping hand ready, I better move this along. So without further ado, now onto our next category… TV shows.

There has been a boom is excellent television, all thanks to the 30 different streaming channels that have popped up recently. This list features shows from Disney, HBO, Apple, and the ones who started this trend and the extinction of cable television Netflix.
Here areTHE TOP 5 BEST TV SHOWS OF 2022!
The Nominees are…
Andor: In an era filled with danger, deception and intrigue, Cassian will embark on the path that is destined to turn him into a Rebel hero.
Cyberpunk: Edgerunners: A Street Kid trying to survive in a technology and body modification-obsessed city of the future. Having everything to lose, he chooses to stay alive by becoming an Edgerunner, a Mercenary outlaw also known as a Cyberpunk.
House of the Dragon: An internal succession war within House Targaryen at the height of its power, 172 years before the birth of Daenerys Targaryen.
Severance: Mark leads a team of office workers whose memories have been surgically divided between their work and personal lives. When a mysterious colleague appears outside of work, it begins a journey to discover the truth about their jobs.
Shining Girls: Years after a brutal attack left her in a constantly shifting reality, Kirby Mazrachi learns that a recent murder is linked to her assault. She teams with a veteran reporter to understand her ever-changing present and confront her past.
And the Cagey goes to…
House of the Dragon – I was not looking forward to getting more Game of Thrones after the last season where they retroactively destroyed the whole franchise. They basically did what The Last of Us Part 2 did, being so bad it makes everything else before it worse. That's how bad the last season of Game of Thrones was. Dragons however somehow managed to pull me back and a lot of others as well. It wasn't immediate for me, as I found the first episode pretty bland. However as the series went forward and as I read up on things to come, I got really excited to see more and they delivered. What's great is the book this is based on is already written and finished, so there's no winging it. It isn't without its faults as they are really hammering in this dagger of the prince who was promised bullshit that literally meant nothing at the end of the GoT series. What I'm hoping is they're doing this to set up future shows like Jon Snow's spinoff that corrects what happened at the end of Game of Thrones. If not, remove that shit, I don't want it.
2. Severance – The concept alone is fantastic. The last episode will have you on the edge of your seat, it's that intense. I don't know how much I should really say about the show. It's the most original series I've watched with a great cast. No other series has me dying for a season 2.
3. Andor – I think the only reason this isn't higher was how they chose to release episodes. The way this series was structured you'd have three episode arcs, the setup, the planning and the execution, usually involving some kind of heist or prison break. Which is great, however it made the series feel less like a tv show and more like you're watching 40 minute chunks of a movie at a time. What they should have done was release episodes three at a time. Unlike most of these Star Wars shows, this had I believe 12 episodes, when usually it's something like 6. The main complaint I'd hear is how boring the show is, when really it's just taking its time to world build and set things up for characters. This is 100% a show made for adults. And damn it, I loved it. The best thing relating to Star Wars in a very long time.
4. Cyberpunk: Edgerunners – This anime ended up doing the impossible, it made me want to play Cyberpunk again. For those who don't know, Cyberpunk 2077 was a much hyped game that didn't deliver at all on what it promised. It went from the biggest game to the butt of all jokes. This anime series takes place in the city, with all new characters and story line. It was done by a Japanese studio known for their wild visuals and animation style, which fit perfectly in with Cyberpunk and Night City, where this takes place. It also did a great job of incorporating things you'd find in the game, locations even some characters. Rebecca is a fan favorite as this nutzo trigger happy loli. The anime is short but sweet, skipping timelines as we see David, a street kid work his way up the criminal pipeline. We end up loving just about every character in this, which helps us feel really bad when just about everyone gets brutally murdered!
5. Shining Girls – I'm not sure many watched this series. It asks the single question of what if a serial killer gained the ability to time travel? Well, you'd get a bunch of murdered girls, that's what. It does this very well, making you guess just not only what is actually going on, but how to stop someone who isn't even in your timeline. Another interesting thing this series does is play with said timeline, as it will suddenly change things around our main character once another murder happens. She sees the changes without anyone else realizing it. One minute you own a cat, the next minute you're married to some dude you barely know and you now have a dog. It's a fun, dark one off series that's worth checking out.
And now the category we have all been waiting for, right folks? Sorry, James Cameron I can tell you now that Avatar wasn't nominated for anything. I'm not sure why you're even here.


The final category for the night,TOP 10 BEST FILMS OF 2022!
The Nominees are…
All Quiet on the Western Front: A young German soldier's terrifying experiences and distress on the western front during World War I.
Barbarian: A woman staying at an Airbnb discovers that the house she has rented is not what it seems.
Deadstream: A disgraced internet personality attempts to win back his followers by livestreaming one night alone in a haunted house. But when he accidentally pisses off a vengeful spirit, his big comeback event becomes a real-time fight for his life.
Jackass Forever: After 11 years, the Jackass crew is back for another crusade.
Nope: The residents of a lonely gulch in inland California bear witness to an uncanny and chilling discovery.
The Northman: A young Viking prince is on a quest to avenge his father's murder.
Puss in Boots: The Last Wish: Puss in Boots discovers that his passion for adventure has taken its toll: he has burned through eight of his nine lives. Puss sets out on an epic journey to find the mythical Last Wish and restore his nine lives.
Terrifier 2: After being resurrected by a sinister entity, Art the Clown returns to the timid town of Miles County where he targets a teenage girl and her younger brother on Halloween night.
Top Gun: Maverick: After thirty years, Maverick is still pushing the envelope as a top naval aviator, but must confront ghosts of his past when he leads TOP GUN's elite graduates on a mission that demands the ultimate sacrifice from those chosen to fly it.
What Josiah Saw: A family with buried secrets reunite at a farmhouse after two decades to pay for their past sins.
And the Cagey goes to…
The Northman – I am not the biggest fan of Robert Eggers. This would make the first of his films that I enjoyed and possibly stayed awake through. However, I absolutely loved his viking telling of Hamlet. It's beautifully shot, violent as hell, and still manages to keep his arthouse weirdness, but this time it felt way more palatable. This won't be for everyone of course but it hit the mark with me. It also features one of the best endings of the year, naked viking volcano sword fight to the death. Need I say more? In my opinion, this is his best film. Obviously it wasn't going to do well at the theater. Unless it's a Marvel superhero movie or Top Gun, or Avatar, movies like this slip by. Which is a shame, as I think this is a must see!
2. Top Gun: Maverick – I really wasn't expecting much out of this. I barely remembered the first film. But holy hell did this movie floor me. I was on the edge of my seat for pretty much all of it. I had no idea how they made it seem so real, turns out it was real. They actually put them in jets and had them fly them around. Tom Cruise refused to do the movie unless they did. I found the story also pretty compelling. There's a lot at stake for the pilots if they mess up on the mission, if they don't pull it off perfectly, not only will the mission fail but it failed because they are dead. Tom Cruise is also fantastic, charming as ever, still looking eternally young. I guess we have Xenu to thank for that.
3. Nope – I still don't feel like spoiling this movie, even though the new trailers do a pretty good job of it already. Like a lot of people, I wasn't a fan of Jordan Peele's last film Us. But regardless, I still had hope, as the premise seemed to have a lot of promise. And for me it hit it out of the park. Unfortunately I don't want to spoil anything for you. I will say without giving too much away, when people get sucked up into this… it's the most horrific and unnerving thing ever heard.
4. Deadstream – This found footage screenlife film absolutely blew me away when I watched it for Horror Month. The closest thing to an Evil Dead remake you'll find, hell, it's better than the actual Evil Dead remake. A canceled YouTuber tries to get his popularity up by performing another wacky stunt, this time it's to lock himself into a haunted house and try to survive the night. Easy. Well, not so much as this house is actually haunted by damned souls, all unique and equally grotesque. The way they mixed humor with practical effects, even finding a fun way to incorporate flashbacks to flesh out the story was clever as hell. If this one slipped you by, check it out.
5. Terrifier 2 – It's funny, I completely forgot I preordered the 4K Bluray online earlier in December, but the release date wasn't until the 28th or something like that, well past Christmas. So when it arrived I was really puzzled. Did someone send me a copy of Terrifier 2? Did I finally get a fan?! No, it had just been so long I forgot. Story wise, there really isn't much to say. This movie is all about the gore. Gore gore baby! Not fun gore, but puke in the theater kind of gore. The film is disturbing, gross but also funny and slightly charming. This thing is a mixed bag, with puke inside.
6. All Quiet on the Western Front – I never read the book in school, I think I might have picked Red Badge of Courage over this when given the choice. But this was one hell of a war movie. It doesn't hold back, it wants to show you the horrors of war. I watched the dubbed version, I know I should have gone with the original German, but it was late and I didn't feel like reading for two and a half hours. This falls under the category of great film, I hope to never watch it again.
7. Barbarian – I really liked the setup, it keeps you guessing. Like our main character you're not sure who you can trust. Even the guy doing his best to not seem strange and intimidating, is coming off strange and intimidating. The film had a lot to say and it said it without it being too heavy handed. I didn't find the film scary however. This was hyped up by those trailers that barely show you any screen footage, but instead gives you night vision footage of the audience in the theater watching it, looking terrified. I don't think I've seen that ploy used since the early 2000's.
8. What Josiah Saw – This was a film that took me by surprise. I really wasn't sure what to expect from it, as it almost seems like three separate stories. With the first tale ending really abruptly. Then we move into a story about a drug addict in debt with local gangsters and you're wondering what the hell is going on? This has nothing to do with anything we just watched. And the third story is even more far removed. But then you start to put the pieces together and see how the stories are connected and holy shit is this a fantastic southern gothic horror film. And that ending! This is a must see.
9. Puss in Boots: The Last Wish – I was so uninterested in another sequel to Puss in Boots, I didn't even bother watching the trailer for it. I admit it, I was dead wrong. This film is absolutely fantastic. It's funny as hell, wonderfully animated with this Spider-Man: Into the Spider-Verse style, giving it this stop motion, cell shaded feel to it. But it really shines when it kicks off into an action sequence, the way characters move is nuts. This was one hell of a sequel, that no Shrek sequel can live up to.
10. Jackass Forever – I don't think I laughed harder at anything all year, maybe in a really long time. The guys are older now, which means less physical stunts that might mean a broken bone, which they still managed to get. So instead they focused on mainly balls. Hitting balls, punching balls, putting dead or poisonous things on their balls… And let's not forget dicks! The skit that had me laughing the hardest was the Silence of the Lambs prank, where they showed a group of guys a deadly snake, telling them they're going to leave them in a room alone with it, the lights switched off, leaving them in pitch blackness and the goal is to make their way through a trapped filled maze to find the exit. However they removed the snake and just had one guy doing his best Buffalo Bill impression, armed with a cattle rod. There's a million pranks like this and that's not even including the stuff that makes you look away out of fear. And yes, Jackass 5 would be something I'd look forward to seeing. However I don't know if some of these guys will survive another round.
That about does it for the show tonight! I think everyone can walk away knowing this was the best list to ever list things. It had a little bit of something for everyone.

Everyone grab your gift bags at the door. Until next year!
Want EARLY access to our videos, uploads, and movie/script reviews? Members get them FIRST! Follow this link to our Discussion Forum.